Students at Lake City Secondary School in Williams Lake had a special substitute teacher Tuesday morning.
The Honourable Judith Guichon, Lieutenant Governor of British Columbia spoke at an assembly talking about her role in the Government and some of the programs she wanted them to participate in.
To mark Canada's 150th birthday, Guichon encouraged the students to take part in the Sing Me A Song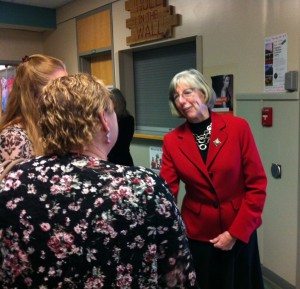 project.
"I want people to write a song about what it means to be Canadian. We've had some wonderful compositions so far-I'd love a great song as that we could sing as we hike the Trans-Canadian Trail in 2017."
Afterwards, the Lieutenant Governor fielded questions ranging from the Monarchy to Global warming.
Guichon continued her Williams Lake visit by speaking at the Williams Lake Seniors Village and Nesika Elementary School.
Tonight she'll be at the Tourism Discovery Centre for the launch of Thompson Rivers University applied sustainable ranching program.
(Files from Pat Matthews)