Want to be the host of your own show? Looking for a platform to livestream your community's stories?
Jumpstart your livestreaming journey with TELUS STORYHIVE this summer!
TELUS is calling all content creators from B.C. and Alberta, including Williams Lake and other Northern B.C. communities, for the STORYHIVE Summer Crew 2.0 program intake, open now until March 24. No experience is required!

Rylan Kinnin (left) and Robb ODay (right), Summer Crew 2022 Alumni. Credit Jessica Zais
YOUR CITY – YOUR COVERAGE
This is your chance to connect with the livestreaming resources you need, learn new skills, and put your community on the map!
The Summer Crew 2.0 program offers the opportunity to kickstart and drive your online presence and livestream your community on TELUS Optik TV and STORYHIVE's online platforms.
WHY TELUS STORYHIVE?
Since 2013, STORYHIVE has supported emerging content creators across B.C. and Alberta with over $52 million in production funding, training and mentorship ‒ bringing hundreds of social purpose stories to life on TELUS Optik TV, online and around the world.
STORYHIVE is excited to share new grant opportunities in 2023! They encourage new and emerging content creators from all backgrounds across B.C. and Alberta to apply.
ABOUT THE SUMMER CREW 2.0 PROGRAM
Summer Crew 2.0 is an intensive 14-week program where 14 crews (teams of two) from different regions receive microgrants, equipment and training to develop their interview skills. Teams will also gain real-world experience with livestreaming technology.
Each crew is a team of two. You can apply with a co-creator/friend or separately and they'll pair you up. It's time to go live
A SUMMER OF LEARNING, CREATING AND MAKING MEMORIES
Vancouver-based Kristina Lao and Raquelle Roodenburg, Crew 8 from the first Summer Crew program, talk about their experience with STORYHIVE in creating their series, Living Full in Vancouver.

Raquelle Roodenburg (left) and Kristina Lao (right), Summer Crew 2022 Alumni. CREDIT Vanessa Mayberry Photography
Kristina explains, "Having worked together in other audio-based content creation, we really wanted to learn how to step up our game in other mediums. We were new to livestream technology, so we learned just how important it was to have a team to guide us throughout the process."
Raquelle describes what motivated her to apply for Summer Crew. "Kristina and I have a dream to create content that normalizes the many different ways people can dream big and live their best lives. After podcasting for about a year (mid-pandemic and over Zoom) we were ready to take our content to the next level and try something completely new. With STORYHIVE behind us, it was the perfect way for us to feel that we could safely jump into a new medium with both feet!"
"STORYHIVE has not only been an incredible resource for us," she continues, "but the team has also championed us and our content in a way that is hard to describe."
Rylan Kinnin and Robb O'Day of Kelowna, Crew 7 from last year, created the in-depth series, Unique Minds of the Okanagan. Robb explains what motivated him to apply to the Summer Crew program.
"I really wanted to push myself as a creator, and with Rylan by my side, we would do anything we put our minds to. We tend to focus on the arts community in our region, trying to help showcase the hidden talent here in the Okanagan."
He continues, "STORYHIVE has changed my life in so many ways, I don't honestly know where to begin. My biggest take away from the program is that you can really achieve anything you put your mind to. As an aspiring content creator trying to make some change in my area, STORYHIVE has given me so much opportunity to make this happen. The hard work that it takes to create a successful project is all worth it when you realize that your dream is actually becoming a reality. It's an incredible feeling watching it all come to life in front of your eyes."

Robb ODay (left) and Rylan Kinnin (right), Summer Crew 2022 Alumni. Credit Jessica Zais

SUMMER CREW 2.0 – WHAT'S THE OPPORTUNITY?
TELUS STORYHIVE wants to help empower you to make connections and uplift the people, places, events and local gems that showcase your community. Apply with a friend or a co-creator to build livestream coverage of your city (or combined region – see eligibility on the Summer Crew Program Details page) over the course of the summer. You decide the stories, STORYHIVE provides the production funding, training and gear.
SAVE THE DATE
STORYHIVE Summer Crew 2.0 program intake is open February 15 – March 24, 2023.
Ask Us Anything webinar is February 22, 2023, from 10:30am-11:30am PT, streamed on Facebook, YouTube and TELUS Optik TV. Register here.
Look for updates and details on the STORYHIVE website and social media channels. If you have any questions, please reach out to [email protected]
For more information, and to apply for STORYHIVE Summer Crew 2.0, visit www.storyhive.com/summercrew and submit your application before March 24, 12:00am (midnight) PT.
---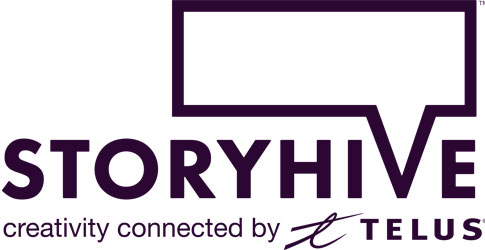 Website: www.storyhive.com
Facebook: www.facebook.com/storyhive
Instagram: www.instagram.com/storyhive/
Twitter: www.twitter.com/STORYHIVE
TikTok: www.tiktok.com/@storyhive
YouTube: www.youtube.com/c/storyhive
---