The City of Quesnel's new childcare facility that is under construction on Webster Avenue in West Quesnel is over budget again.
   Director of Community Services Jeff Norburn successfully requested another 200 thousand dollars at last (Tuesday) night's meeting.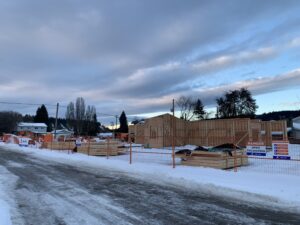 "Factors beyond the control of the contractor resulted in this work starting later than we had initially hoped which resulted in significant additional costs for heating and hording which were not included in the budget.  In addition to the substantive costs for heating and hording for the foundation work (approximately $98,500), there have been other unexpected costs, including the discovery of a pre-existing foundation on the site which had to be removed."
   Councillor Mitch Vik moved the motion noting that they were basically already pot committed.
   "I don't see an alternative other than to not finish the project.  It would put us at odds with the province.  We don't want a half built building, it's just not plausible to not finish the project."
   The extra money that's needed will come out of the Tax Stabilization Reserve, which also caused a bit of concern for Vik.
   "It definitely bears reminding that the Tax Stabilization Reserve is not really meant for this sort of situation.   It's meant for if we lose a mill and we need to top up our revenues during an unfortunate position we may find ourselves in if a mill closes."
   Mayor Ron Paull, who agreed that they were in the proverbial rock and a hard place, asked what kind of a dent the request would put in the Tax Stabilization Reserve.
   Director of Finance Kari Bolton noted that it was currently at around $677,000 and that this would bring it down to about $477,000.
   She also said however that money hadn't been allocated for this reserve in recent years, which led to the suggestion that the Financial Sustainability and Audit Committee look into that.
   Council originally received a grant of just over 2.6 million dollars to provide 57 new childcare spaces in Quesnel in the spring of 2022.
   However, all bids for the project came in more than a million dollars over that funding amount.
   Staff and the project team then worked with the highest scoring bidder to reduce their bid by more than 430 thousand dollars through a process of value engineering.
   Director Norburn says the city was then able to secure another 801 thousand dollars from the province, but that still left a small funding gap.
 "At the Council meeting on September 27th, Council passed a resolution to enter into a funding agreement with the province to award the construction contract to Jen-Col Construction Ltd, and to provide an allocation of just over 100 thousand dollars from the General Interest Capital Reserve to provide the project with a modest contingency."
   Norburn indicated last night that this new funding commitment from the city also includes a contingency fund.
   He said the hope was that they wouldn't need all of it.