(With files by Brendan Pawliw-MyPGNow)
The BC Nurses' Union says it is deeply concerned after Northern Health Authority (NHA) was issued a substantial fine for failing to adequately complete workplace investigations related to safety.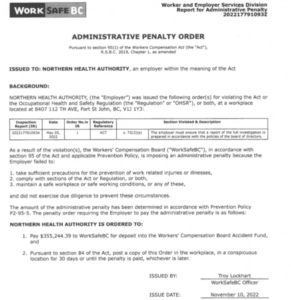 WorkSafeBC levied a $355,249 administrative penalty on our health authority for failing to conduct adequate workplace inspections following reports from nurses and other healthcare workers about ongoing safety issues.
President Aman Grewal has serious concerns as to whether this penalty is indicative of a systemic oversight by health employers and the government on the issue of violence, health, and safety.
"While the recent announcement of new protection security officers is a step in the right direction, this shows us there is much more that needs to happen within health authorities to make worksites safer for nurses and all health care workers, said Grewal.
"The fact is, all provincial health authorities use the same provincial reporting system, and we know there are issues with the system as we've seen with this penalty."
The Nurses Union added similar issues have been seen in other health authorities, including Vancouver Island, which was ordered to engage in a compliance agreement with WorkSafe for poorly conducted safety investigations and low safety training rates.
Grewal and the BCNU are calling on the government to audit all occupational health and safety reports from the last year to ensure investigations are conducted and that corrective actions are put in place to keep healthcare workers safe.