Once again a South Cariboo Holiday Season fundraiser surpassed its goal.
Country 840 in 100 Mile House began its broadcast day with the annual Turkey Day event which raises money for the 100 Mile Food Bank Christmas Hampers distribution.
Morning host Chris Adams noted even before it began at 6 am they already had 146 pre-pledges.
"It went fantastic as it always does," Adams said, "We hit right around the 471 mark and pledges are still coming in. Turkey Day of course is our annual fundraiser for the 100 Mile Food Bank and we're making a lot of people happy as we always do. We've been doing this since 1989."
Adams said a $25 donation is what they call they call a turkey.
"And that's a fun way of keeping track of how many donations we get although in the past we have had actual turkeys dropped off at the station. Our goal is always 400 turkeys and we always go above that thanks to the generosity of the people in 100 Mile House. "
Adams added that he wasn't alone in the studio collecting pledges.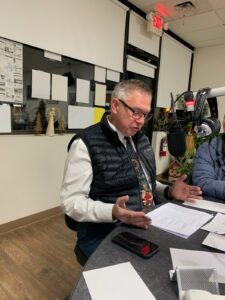 "We had our MLA Lorne Doerkson, Mayor Maureen Pinkney, Councillor Donna Barnett, and from the CRD Area H Director Al Richmond was here and all sorts of other folks popping in and out as well reading pledges and answering phones, it was as always a great time."