A new 56 unit residential building has been given the go ahead by Quesnel City Council.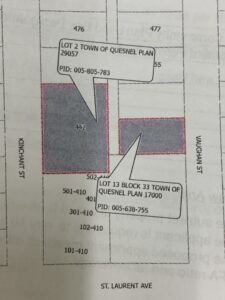 A development permit was unanimously approved at last night's meeting.
Tanya Turner is the Director of Development Services.
"This development permit application is to review the overall site design for a 6-storey residential building at 442 Kinchant Street and consider the variance of 10 parking spaces."
The parking variance was to allow for 54 stalls, instead of 64.
Turner noted that all of the parking wouldn't be on the site.
"Parking will be split between two lots. 28 stalls will be located on the new site, and 26 on the lot 13 Vaughn Street which is currently a developed parking lot next to City Hall."
The plan is for 41 one-bedroom dwellings and 15 two-bedroom dwellings, ranging between 575 square feet to 895 square feet.