The grand opening ceremony of a brand new housing project in Nazko will take place later today.
Nazko Chief Leah Stump goes over a few of the details.
"We are going to gather in front of the nineplex at 11 and we're going to have some people from Indigenous Services Canada there, we're going to have some other dignitaries there, and we are going to have the elders cut the ribbon for the opening."
Stump says it means a lot to the community.
"I guess to show how much appreciation we have as a Chief and Council to be able to have new homes in Nazko. It's a long time coming and I believe that bringing our members home is such a big accomplishment for us."
Stump says this project is the result of a revised funding application.
"We had a funding submission to previously buy the River Rock and add in a nineplex there and that funding was denied.  They came back at us and let us know that if we revised it and put it on reserve that it would be more appropriate. So we revised it and we were approved."
It is a 4.4 million dollar project with 3.5 million coming from the federal government's Rapid Housing Initiative and approximately 900 thousand comes from Indigenous Services Canada.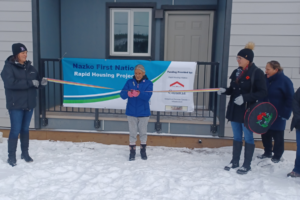 Stump says it will be right beside their existing 8-unit building.
"There's two units that have three bedrooms, one unit that has 1 bedroom and then the rest are 2 bedroom units. I went through a tour in there a couple of weeks ago and it looks pretty amazing. I think the tenants will be happy."
The housing is for vulnerable groups such as women and children, the disabled and elders.
Stump says they are in the process of selecting tenants who will be moving in between December 1st and the 15th.
The name of the building is Sbalyan.
"That means eagle in Carrier.  We consider the eagle to be a sacred part of our culture in healing and providing us guidance and strength."