Williams Lake saw the inauguration of its newly elected mayor and council.
The mayor and each councillor gave their oath, and after gave speeches before they began the meeting.
Even though Mayor Surinderpal Rathor was sworn in today, he was still busy preparing and working.
"The toughest task I had was to make the appointments, a lot of things you have to consider, and things are getting close to auto pilot." says Mayor Rathor.
The Council Chambers could be seen packed full of people with some watching from the foyer.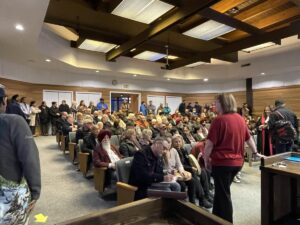 Mayor Rathor made note that he thanks the community for giving him the opportunity, and looks forward to serving it.
Once the meeting had ended, visitors were welcome to chat amongst each other over food and beverages in the foyer.
You can watch the full inauguration on the City of Williams Lake livestream here.