The Royal Canadian Legion's National Poppy Campaign is underway until November 11th.
As in years past, traditional Poppy boxes will be available for cash donations and donors will also be able to give through the Legion's national website.
"This year the Digital Poppy is back as well as part of the overall campaign," Nujma Bond, National Spokesperson and Communications Manager for the Royal Canadian Legion said, " If you visit mypoppy.ca you can get a digital Poppy and dedicate it to a veteran of your choice, and you can also share it on your social media channels, so it's another wonderful way to remember our veterans."
Bond said the Royal Canadian Legion is also extremely pleased to be launching this year biodegradable Poppies and Wreaths.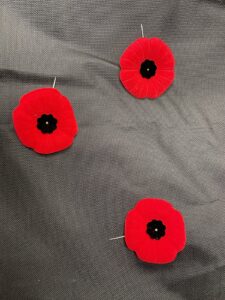 "These two items have been a few years in the making because it's taken a bit of time to get the right mix of materials. The Poppy this year is made of paper and cotton velvet and the Wreaths are made of moss, bamboo, and also some plaster." Bond said, "It will take probably about a couple of years to use the stock we already have but in due course, all of the Poppies and all of the Wreaths will be 100% biodegradable."
We asked Bond when Remembrance Day is over what is the proper way to handle our Poppies.
"There are a number of ways. Some people choose to keep them for the next year, and, if you wish to dispose of them we just ask that people do so respectfully. That means if it's a recycled Poppy you put it in with your recycling if your municipality recycles them, or if you do receive a biodegradable Poppy this year you can simply put them in with your biodegradable goods without the pins," Bond said.
Close to 20 million dollars is donated during the National Poppy Campaign each year and goes directly into initiatives to support Canada's Veterans and their families.