On Thursday (October 13th), archeological material was discovered during the excavation work at Boitanio Mall's renovation site.
In a release from the Williams Lake First Nation, they say that a projectile point, made of fine grain volcanic rock, which could have come from either an arrow or spear was found.
Multiple pieces of shattered stone, created as a by-product of stone tool production was also found at the site.
Sugar Cane Archeology's Whitney Spearing says the pieces will be analyzed through an x-ray to hopefully determine the origin.
As for the site itself, there will be no more ground disturbing excavations to complete the renovation project. This would be the only time archeologists will have access to the site.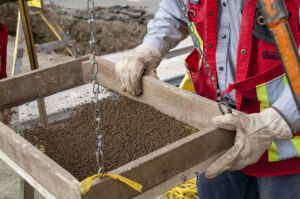 Everything that was removed during the excavation will be examined, raked and screened for any materials left behind.