A ribbon cutting event was held next to the South Broadway Liquor Store to begin working on the upcoming Williams Lake Wendy's.
This follows the green light that was given from City Council last Tuesday to move forward with the new fast food restaurant. The Wendy's though, has been in the works for quite some time now.
"We've been working on this project for almost 30 years to be honest, but the real work started about two years ago, and really look at this location from a different lens." says Doug Bell, Operator for Family Fast Foods and Norther Lights Estate Winery.
"Ultimately, Williams Lake has been a place we wanted be forever."
Some cheers and applauds were heard after the ribbon cutting, however there are still concerns about the restaurant that members of the community voiced at Council.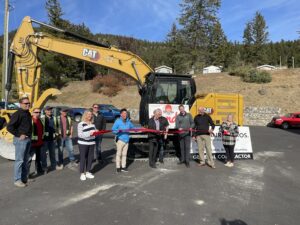 "We think that we can mitigate a lot of the concern the people in the trailer park behind us had some concern that they expressed at council." says Pat Bell, Owner of the Williams Lake Wendy's.
"We're aware of those things, and we want to make sure that we mitigate them. We'll be working to make sure that they're happy with the way that we operate."
Todd Lewis, President and Operating Partner said that they are currently looking at local sponsorships to see what they can get involved with.
The plan is for the Wendy's to be open by late spring to summer if no delays occur.