UPDATE:
   Fortis Gas has now shut down a gas line that was severed earlier today on the construction site at GR Baker Hospital in Quesnel.
   The fire department has now left the scene.
   Fortis Gas will now let the residents on Walkem Street know when they can return to their homes.
ORIGINAL STORY:
The Quesnel Volunteer Fire Department was called out to Walkem Street at the north end of the hospital where construction is taking place at around 11-30 this (Tuesday) morning.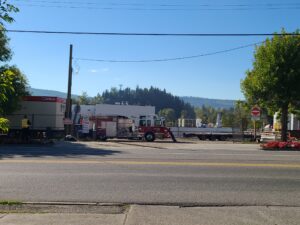 Fire Chief Ron Richert describes the scene.
"Upon arrival we noticed we had a large two inch gas line that had been broken off so we evacuated the area.  We evacuated about five residential homes on Walkem Street and remained on scene, and we're still on scene until Fortis Gas can get that section of line shut down."
Fortis Gas is working on that right now.
Richert says it was an excavator that hit the gas line and severed it.
No one was hurt.
He says they evacuated the area as a precaution.
Richert says GR Baker Hospital remains in operation.