Make your voice heard.
That's the name and message of an awareness project conference for violence against Aboriginal women and teens that was held today in Williams Lake by the Cariboo Chilcotin Metis Association (CCMA).
One of the day's workshop focused on a "faceless doll project" which Donna-Lee Short a CMMA Family Support Worker explains.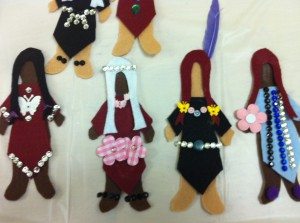 "Originally this project started in 2010 when it became a travelling art exhibit to pay tribute to all these missing and murdered women.  So for our community because we have such a high aboriginal Metis Inuit  population we're creating our own faceless doll project."
Short goes onto to say that she'll have the youth that she works with create one of these dolls and in the next few months the Cariboo Chilcotin Metis Association will have their own big exhibit to pay tribute to these missing, murdered and abused women at their office which is located on Oliver Street.
"It's a major issue in this community," says Short.  "Even one of our presenters today is a front-line worker, we had the RCMP here also and it's a daily occurrence. It's just hitting, people don't want to talk about it."
"When I originally created this project it was geared towards the victims and it was supposed to be a four day program. I couldn't get people to come out and publicly speak about it so in this way I created it to be a public event so that way we can all speak about it."
Funding for the project was made available through the Minister's  Advisory Council for Aboriginal Women (MACAW) who makes recommendations to the provincial government on the issues can be collaboratively addressed.
Short says through the project they all brainstormed ways that they could address violence against aboriginal women and teens which will be forwarded to the MACAW in hopes of being used in part of their recommendations.
"From the feedback, I got today i would also like to create one that deals with the abusing against men in relationships. Today we focused on women, there was some talk about the men but I want to apply for more funding, create a bigger conference at a better time-mind you so that I can I have bigger turnout and I want to engage more youth and educate the youth in this area and empower them to be stronger and empower them to have a voice."