This Saturday (September 17th), volunteers will be able to help finish a newly painted mural.
The mural itself can be found in the parking lot between Save On Foods and BC liquor.
"The painting was done by Dwayne Davies it's been completed about a week ago." says Andrew Sandberg, Director of the Daybreak Rotary Club.
"The event is to finalize the mural, inviting any volunteers from Williams Lake or the surrounding areas to come by and put their hand print, make their mark on the mural. Each handprint will represent a leaf on one of the trees."
Volunteers who choose to make their mark on the mural, will wear a glove to prevent paint on the hands.
Sandberg added that he'd love to see anything north of 500 hand prints on the mural. He said there's countless volunteers in the community, from The Lakers Car Club, The Boys and Girls Club, Big Brothers Big Sisters, anyone who's volunteered their time for anything.
As a little Easter egg, Three of the numbers on the soccer jerseys represent when the mural will be finalized.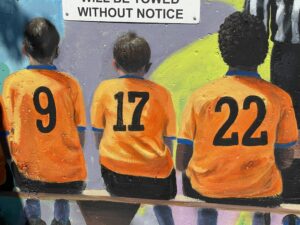 Sandberg also mentioned that they look to make the mural a hub for different volunteering events, such as volunteer week in April.