Water from Quesnel Lake is expected to remain looking clear this year-a considerable contrast from last year.
Imperial Metals Vice President of Corporate Affairs Steve Robertson, says Mt. Polley's third-party physical limnologist advised that the current velocities at the lakes' seasonal overturn will not be strong enough to re-suspend the sediments on the bottom.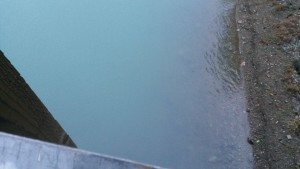 He says monitoring will be going on into the foreseeable future.
"I would say that until get we Hazeltine Creek into a position where we've got it restored to the level we would expect it to be, we'll probably continue to do all the monitoring that we're doing up and down the creek and Quesnel Lake."
The lake had appeared cloudy-and a never before seen green color according to some residents in Likely-at this time last year due to some of the material from the tailings pond breach not having settled and remaining suspended in a cloudy layer below the lake's thermocline and mixing with surface water during the lakes' overturn.
The lake overturns according to Robertson occur twice every year-once in the fall and once in the spring.