Northern Health has released the COVID-19 exposure dates at the Catholic school and there are three of them.
They are between October 27th and the 29th, November 1st to the 5th, and November 8th through the 10th.
Northern Health says these are exposure dates and that this is not an outbreak.
A letter went out to parents on Sunday saying that there would be no school on Monday due to a lack of staff, adding that some staff were awaiting rest results.
Today, only remote online classes are taking place.
There is no word yet on what the plan is moving forward.
ORIGINAL STORY:
St. Ann's School in Quesnel was closed today (Monday) due to COVID-19 cases within the school.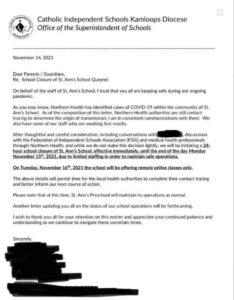 A letter from the Catholic Independent Schools Kamloops Diocese Officer of the Superintendent of Schools went out to parents explaining the situation.
It states that Northern Health had identified some cases and that contact tracing was underway to determine the origin of the transmission.
The letter says the school was closed for today due to limited staffing in order to maintain safe operations.
The school will only be offering remote online classes tomorrow (Tuesday) as well.