**Update 5:50**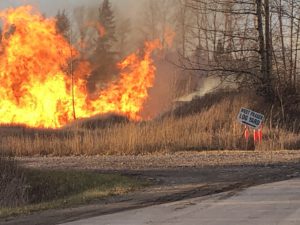 Firefighters continue to battle a large fire in the log yard of the West Fraser's WestPine MDF plant on Quesnel-Hixon Road.
Bart Schneider with the Quesnel Volunteer Fire Department said a call came in this afternoon around 2:15.
Upon arrival, he said the fire had already been seeded well into one corner of the log pile, and aided by strong winds, continued to grow from there.
"The fire grew very quickly to the point where we tried to cut it off and then get some equipment in to start moving the log pile but it's just moving too fast." Schneider said, "It's now quite large, moving quite quickly through the actual log pile, so all we're trying to do is a defensive attack and contain it to this log pile."
Schneider added that they are trying to contain it much along the same lines as forest fires are fought.
"We already have mutual aid departments on the scene, Barlow Creek and Bouchie Lake. I'm just getting reports that our other mutual aid departments are preparing to assist us and we will be looking at them to help swap out guys and bring in fresh crews as this continues well into the night" Schneider said.
No buildings are being threatened at this time and Schneider added there is no way of telling what caused the fire at this point.