Roger Jimmie, who was Kluskus (Lhoosk'uz) Chief from 1977 to 2004, passed away earlier this month.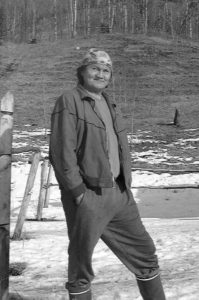 Jimmie was described as a trailblazer and fearless warrior in the battle for Indigenous Title and Rights by the Union of BC Indian Chiefs.
   "Chief Jimmie was fiercely proud of his Kluskus heritage and fought for Indigenous self-determination and sovereignty, never settling for anything less than what was just and right.  He worked with other Chiefs in the Williams Lake area to protest and eventually have the Department of Indian Affairs Office there closed due to its inadequate services and management of the housing and social programs. Chief Jimmie always wanted to uplift his people and when he saw the opportunity for change, he never hesitated to grasp it."
   Jimmie was also an integral 
member of the Constitution Express, a landmark movement organized in 1980 and 1981 to protest the lack of recognition of Aboriginal rights in the proposed patriation of the Canadian Constitution by the Pierre Trudeau government.
   "Led by Grand Chief George Manuel, Chief Jimmie worked with other notable Chiefs, leaders, and activists to lobby the government to ensure that Canada would recognize, not abolish Indigenous rights.  Chief Jimmie was part of the delegation of 137 Chiefs and delegates who met in London, England to enlighten British Parliament and champion for a Constitution that would uphold Indigenous dignity and authority."
   Chief Roger Jimmie was also a survivor and veteran of the Indian Residential School System, having attended St. Joseph's Mission at Williams Lake.
   Jimmie was also quite a family man with 10 sons and 3 daughters, along with 13 grandchildren, and 3 great grandchildren.