Third reading on a zoning amendment for the project passed unanimously at last (Tuesday) night's City Council meeting.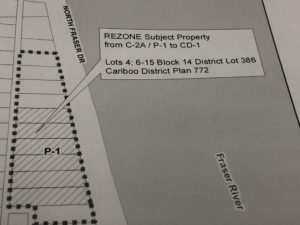 The vote was unanimous, although Councillor Tony Goulet who is the Executive Director of the Quesnel Tillicum Society that is behind the project, was not part of that vote as he recused himself.
Here, he describes the project.
"It's going to be a 34-unit housing project built on our lot at the Friendship Centre on North Fraser Drive. It's going to be about a five-storey building.  It's going to be for low income renters.  It's going to have a First Nations component to it, so very excited about the project."
Goulet says it is open to everybody however, which he says is in line with the mandate of the Friendship Centre which is to be inclusive.
He says the plan is to have some different choices.
'There is one bedroom, two bedroom and some wheelchair accessible buildings sort of on the main part and office, so it's a pretty nice design.  We will have some public meetings where we hope to go into more details and show the plan and show what the rooms look like.  We're trying to do it as a virtual where you put on the glasses and do a walk though."
Goulet says they are still working on a timeline for the project.
"We have some funding pieces we have to do as a non profit, we've got to show some fundraising so we're in that stage.  With COVID, we were going to try and do that this couple years, but now we're going to ramp things up to see if we can do some fundraising pieces."
He says their ultimate goal would be to complete it by 2023.
"If we get funding from say BC Housing, because we have an application into them and we're reviewing that application and going through it to meet their criteria, so if they fund us we're better off and we can probably start ASAP right."
Goulet says the zoning bylaw, and making it all one zone, is better with BC Housing because then they can move forward with their application faster.