Bart Schneider, a Duty Officer with the Quesnel Volunteer Fire Department, says they were called to Harper Avenue for a vehicle fire beside Riverview Elementary School just before 10 this (Wednesday) morning.
"When I arrived on scene there was flames and smoke showing from the engine compartment and it had started to spread into the firewall and into the cabin of the vehicle.   There was nobody around it, everybody had backed away from the fire, and the vehicle was safely parked off to the side of the road."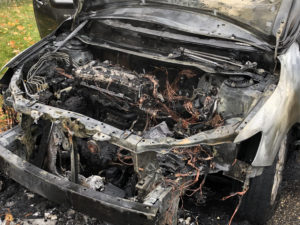 Schneider says there wasn't much they could do to save the vehicle.
"Not at that point in time with fire involvement under the hood.  It was too much for me to take care of with an extinguisher so I had to wait for my engine to arrive, and they very quickly knocked the fire down and made access to the engine compartment and extinguished it.  The whole engine compartment and front end is very damaged."
Schneider says from the driver's description, it is hard to say what caused the fire at this point.
"She just basically said that the vehicle lost power, she coasted it off to the side of the road, parked it, and stepped out of the vehicle.  When she stepped out it was already starting to smoke from under the hood, and then she backed away from it."
No one was hurt.