It was the best food drive yet.
That's how Anita Higdon, one of the Coordinators, described this year's BC Thanksgiving Day Food Drive in Quesnel.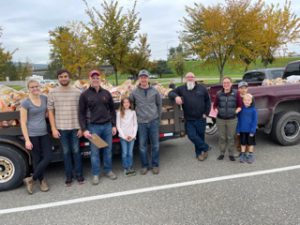 "It was excellent.  We turned 16 percent more pounds of food with less bags because for the first time this year we tried something different, and people could donate money.  The average bag return, it went up so that was good news.  It went up from 18 percent last year to 24, like 25 percent return."
Higdon says the final tally was 7,848 pounds.
She says that was up from 6,759 pounds last year, and she says this year's total doesn't include cash donations, which was new this year.
"We haven't got the tally yet, but we did stickers on routes where people could donate money instead, because some people were like I don't have time to get a bag ready, how about I just click on this link and then I'll donate money directly to the Warrior Cafe, to the Salvation Army."
Higdon says the food was really appreciated.
"All the people, when we delivered to the Warrior Cafe, they were so thrilled and almost in tears to see the community giving so much.  It's really heart warming to see this."
This food drive has been held in Quesnel since 2012.