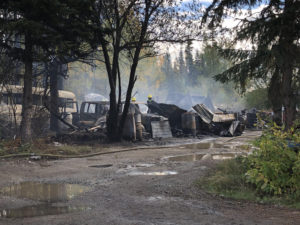 A shed burnt to the ground and several vehicles were destroyed by fire on a property along Highway 97 north of Quesnel.
Jim Sales, Fire Chief with the 10-Mile Lake Volunteer Fire Department, says they were called to Dahl Road at around 8-25 this (Monday) morning.
Here, he describes the scene.
"Basically the shed was on fire next to the trailer.  The trailer is probably 10 metres away.  The shed was engulfed, fully engulfed, when we got here.  What happened was it blew west and was coming out towards the highway, blew across and caught all these cars on fire, I would say there were probably five cars that caught on fire."
Sales says they were on scene for a while.
"It was a tough one to put out because there were so many tires that had been stored inside the shed, and you can see all these tires that are burnt, you know what it's like to get a tire fire out."
Sales says no one was hurt.
He says the only damage to the trailer was to the siding that was facing the fire.
Sales says they have no idea at this point what caused the fire.
The Barlow Creek Volunteer Fire Department provided mutual aid.