Take Back the Night in Quesnel is once again taking a different approach this year due to the COVID-19 pandemic.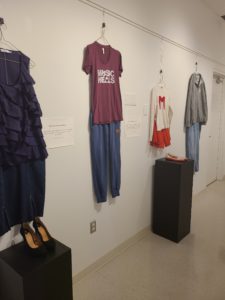 Catherine Forbes, a Stopping the Violence Councillor at the Women's Resource Centre, says they have set up an art installation at the Rec Centre called "What Were You Wearing."
"It's a display of a collection of descriptions of what survivors were wearing when they experienced sexual violence.  The goal of the installation this year is for viewers to see themselves reflected in some of these stories.  And we feel that recognizing ourselves in these stories that it moves us away from victim blaming, using that phrase "what were you wearing."
Forbes says it essentially puts the blame back on the responsibility on the people that caused the harm, the perpetrator.
"For most survivors the question of what were you wearing becomes very pervasive, and it's asked a lot. And it's our job as advocates, supporters in the community, to dispel that myth that somehow the clothes that you wear cause the assault.  So it asks the people that come and see it to understand that it's never, never about the clothing that you're wearing."
Forbes says they are hoping that it provokes people to think, but they are also very aware that the installation may bring up some triggers for people.
"We've left some information at the art gallery about where to seek help, numbers to call in the event that you may want to report something, or you may just want to talk about what this experience of going through the gallery has brought up for you."
Forbes says they will also have people there as well.
The art installation went up today (Thursday) and will run for one week until October 1st.
The gallery is open from 10 a.m. til 4 p.m.
While they won't be holding a candle light vigil at the women's monument this year and then marching to the Women's Resource Centre, Forbes says they are still encouraging people to take the time to go down to the monument and reflect on the missing and murdered women that are listed, as well as the ones that aren't.
Forbes says one in 3 women worldwide are still victims of assault.