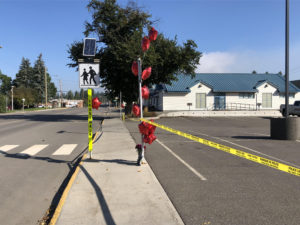 A small memorial has been set up outside a parking lot beside the Legion in downtown Quesnel.
The message attached to it is "R.I.P. David Baker", although the name of the person that was shot and killed has not been released.
Inside the police tape, the investigation into the shooting continues.
The incident is now being investigated by the Independent Investigations Office of BC.
RCMP say members were conducting a check on a vehicle in a parking lot in the 400 block of Carson Avenue early Tuesday (Aug 31) morning.
A man was sleeping inside, police say he reached for a firearm and that shots were fired.
Witnesses report hearing several gun shots.
Police say the man was rushed to GR Baker Hospital where he was declared deceased.