Officials and community members gathered at Williams Lake's Boitanio Park Thursday morning to celebrate the nearing completion of the Telus Fibre Optic Network.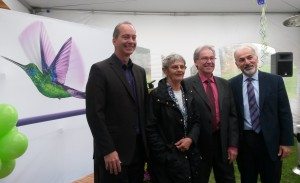 Zouheir Mansourati, Vice President of Telus Broadband Network Implementation says the network will present a number of economic opportunities for the Lake City including companies to set up data centers.
"If they go and open a data centre that requires a need for a lot of real estate in the center of Vancouver it would be extremely costly. You have fibre in between connecting them and eliminating that distance limitation then they could come to the Williams Lake location for example and build a data centre."
Mansourati says the Telus Fibre Network will also present numberless benefits to education and health care.
When asked if Telus will be expanding the network to the Highway 20 corridor, Mansourati says they have challenges in the sense of stepping out of relatively dense, urban, suburban, and municipal areas.
"The distances become a challenge. With distance comes higher cost so this is where every case that comes our way we look at it from an economic viability perspective and we determine if we can actually go do it or not," he said.
"Cost is not the only factor-it's also the revenue that will be generated based on that cost."
Mansourati says if Telus deems it is not economically viable they present a business case in which groups contribute to buying a certain amount of the costs.
Work on the Telus Optic Network project in Williams Lake which began in August of 2014, is expected to wrap up before the end of this year with about 90% of those currently within the City's boundary able to request the services to be installed within their own home or business.