A team of tree-planters from Williams Lake West Fraser have officially helped set a world record.
On May 20th the Sustainable Forestry Initiative (SFI) partnered with local teams from 29 communities across Canada and the U.S., including Horsefly, to set a new world record for the most trees planted simultaneously within a one-hour period by teams of 25 to 100 participants.
Guinness has confirmed that the 202,935 trees planted by the 29 teams sets an official world record!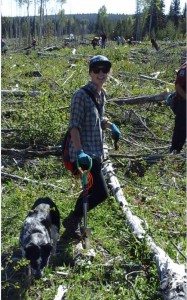 "As SFI celebrates its 20th anniversary, I can't think of a more exciting way to recognize and reinforce our commitment to healthy forests and sustainable communities, and to reaffirm that the actions we take today can have a significant and material impact on the future of our forests," says Kathy Abusow, President and CEO of SFI.
The 202,935 trees planted as a result of this initiative will help to sequester carbon from the atmosphere and protect healthy habitats across Canada and the U.S. for generations to come.
The effort involved 1,165 volunteers.
A video capturing highlights of the record can be viewed here.