It was smiles and laughs as 12 veterans from across the province gathered for supper in Williams Lake Sunday evening after taking part in a fly fishing destination event at local lakes over the weekend.
Dan Reid, who has served in 141 countries and came down from Vancouver, says he had a blast in his first-time fly fishing.
"I caught four fish and I'm taking one home," he said.
"I went to Blue Lake twice because the fishing was so good. We landed two and had our lines, each of us had our lines were broken by bigger fish. We probably had about 10 to 12 bites between the two of us."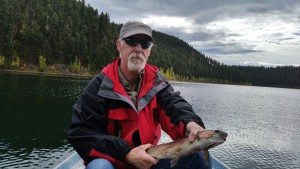 National Partnerships Director with Wounded Warriors Canada in Toronto, David MacDonald says the event had special meaning for the Wounded Warriors who each have different decades of experience in peacekeeping and war.
"Some people just see this getting the cool guys out going fly fishing; what's new about that? but what it really does is it allows a group that hasn't really had a chance since they left the military for a chance to get back involved sort of in an environment they can start relying on each other again and rebuild that kind of team building experience so that's really the benefit that this did."
MacDonald says he is hopeful that the event, which was a joint project between the Cariboo Wounded Warriors, will continue into next year.
"This area is absolutely gorgeous, I love coming out to BC. Myself, I'm an injured Veteran that served in Afghanistan. My process of healing started actually in BC four years ago," he says.
"Every time I come out here I'm always blown away by the local support from the community, which was no different here. We've had tons of local organizations from Williams Lake throwing the support in."
The Warriors will be saying their goodbyes Monday morning when the event officially wraps up.
The event was the first of its kind to take place in Canada.