Terry Fox's legacy of working together to outrun cancer will be alive and well across the Cariboo on Sunday.
The 35th Annual Terry Fox Run will take place with registration getting underway in Williams Lake, Quesnel, and 100 Mile in the morning.
Sheila Wyse, Coordinator for the Run in Williams Lake, says the event has garnered tremendous support from the community.
"We have a bantam rep hockey team; that's twenty young boys of the ages of 13 and 14 are very excited to hand out water along the route and the Girl Guides, specifically the Path Finders group will be preparing all the food for us, so it's really great to see young people involved."
Wyse says a third route that is 1km long and on flat terrain has been added.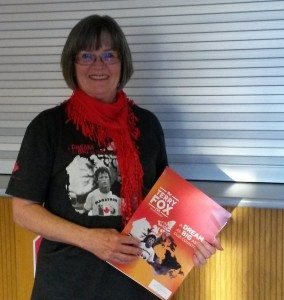 Registration in Williams Lake starts at 9 am at the Cariboo Memorial Complex, in 100 Mile house at 9:30 at the South Cariboo Visitor Centre, and in Quesnel at LeBourdais Park at 9.
The Run in all three communities starts at 10.