West Fraser celebrated its 60th Anniversary at their Williams Lake division Saturday afternoon.
The community celebration which had featured lots of free activities for the whole family, including swimming, as well as a bbq wrapped at 4 pm at the Cariboo Memorial Complex.
Sawmill Manager Jordan Townsend says he was thrilled with the turnout.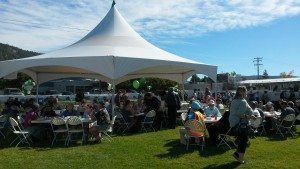 The 100 Mile division will also be celebrating with free activities and food on Sunday at Centennial Park.
It runs from 11 until 3 pm.