Riders in Williams Lake departed from the Cariboo Memorial Complex this morning to Gavin Lake for this years 23rd Annual Tour de Cariboo.
Executive Director for Big Brothers and Big Sisters, Melissa Newberry says she thinks there was a really good turnout.
"This is a community event that's always well supported. We always like to see more riders but I think it's a beautiful day and we've been well supported by Williams Lake," she said.
"Thank you Williams Lake, thank you 100 Mile, thank you Quesnel-we have riders from all over."
One of the riders taking part in the 75km ride was Deena Williamson who says she has participated in so many of the rides that are always a blast, she has lost count.
"At least 18 I think," Williamson said.
"I don't know- too many; it's for the kids and for the association so some years I want to beat my time. Other years I want to beat my donations."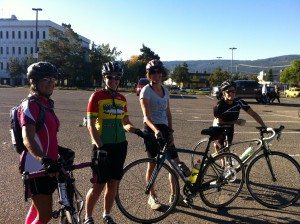 It was announced before the riders departed that the  Big Brothers and Big Sisters mentoring program will be expanding to 100 Mile House with 20 elementary school students matched with 20 high school students.
Newberry says they won't know the number of funds raised until the end of the day.
She says they typically raise about $40,000, with last year having been an exceptional year raising $60,000.