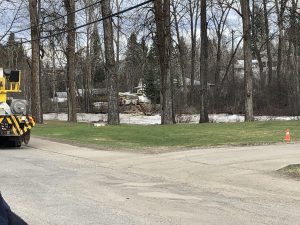 BC Hydro crews continue to work on power lines that were downed by a tree along Baker Drive in Quesnel this morning.
Spokesman Dave Mosure confirms that the creek knocked over a tree that in turn took down four power poles and damaged two others.
Mosure says it caused two separate power outages…
"The first one started at 10-57 am and initially had just under 25-hundred customers, 24-97 were taken out. Crews were mobilized immediately and were able to do some switching around the damaged portion and brought that number of impacted customers down to 186. Unfortunately, a second outage hit the same area. At 11-53 am another 435 customers were added to that tally, so we're sitting just over 600 customers at this point in time."
Mosure says they have mobilized all local crews, who are now working to get the power restored…
"We've got nine power line technicians busy trying to repair the damage in that area.   We expect that people from the first outage will have their power restored by 12-15 just after midnight tonight, and that those impacted by the second outage should have their power restored by 5pm tonight."
Mosure says they are also checking other power lines in that area to make sure that they haven't been compromised.
Motorists are still being asked to avoid the area if possible.
Mosure reminds people that if they come across lines down to treat it as an emergency and stay back 10-meters, which is about the length of a school bus, and to call 9-1-1 as he says you never know if the lines are live.
ORIGINAL STORY
Quesnel residents are being asked to stay away from the Baker Creek and Lewis Drive area this hour as a major power line is down.
Quesnel Fire Chief Sylvain Gauthier says they were called to the scene just after 11 o'clock.
Here, he describes what happened…
"Basically what we have is a large tree from the creek that just came down into the creek and took out three phase power, a major power line going across the creek, so we have BC Hydro, RCMP and City Crews on scene."
Gauthier says the high water took the tree, roots and all, out of the ground.
BC Hydro Spokesperson Dave Mosure confirms that at least four poles are down.
He says power has been knocked out to 2,497 people.