Motorists on Highway 97, 8km south of Williams Lake were brought to a standstill Friday afternoon following a collision near Mission Road at 2 pm.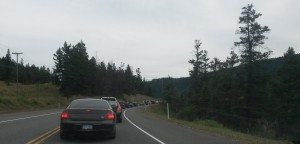 RCMP say a northbound semi-tractor trailer rear-ended a pick-up truck towing a travel trailer.
One child and one teenager were taken to the hospital with minor injuries.
Both vehicles were damaged extensively, with some of the debris striking another an oncoming vehicle. That driver was uninjured.
Investigators are currently working to determine exactly what led to the incident although alcohol has been ruled out. Charges pursuant to the motor vehicle act are being considered against the driver of the pickup truck and semi-tractor trailer.
The Highway opened to single lane alternating traffic at 4:44 pm.