With colder temperatures continuing to linger, the City of Williams Lake will be providing a space for its vulnerable population to warm up.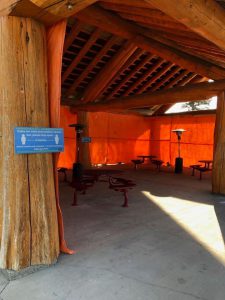 The shelter in Boitano Park behind the Recreation Complex was tarped and had heaters installed early Thursday morning.
"This is intended to be a place during the day that they can go as the Salvation Army, Cariboo Memorial Recreation Complex, and library are closed right now," said Director of Municipal Services, Gary Muraca. "They would go to these places during the day if it was too cold."
The City has also made portable sanitation facilities available near the temporary makeshift shelter.
Muraca said it will be operational from 8 am to 5 pm, and will not be heated overnight.
"Bylaw staff and the RCMP will be monitoring to make sure all of the social distancing rules and the behavior is appropriate for that area," he added.
The makeshift shelter won't be disassembled until temperatures warm up.