The clean-up of the beach at Scout Island by some special volunteers has caught the attention of the City of Williams Lake.
Mayor Walt Cobb thanked the group for their efforts that have now continued bright and early for almost 3 weeks at Tuesday's City Council meeting.
"I'd like to extend my congratulations and thank you to the group for being community-minded and getting the beach cleaned-up."
"We have started the process where our staff will actually be doing it 3 times a week now. They were doing it only twice a month before."
Also extending a thank you to the group was Councillor Craig Smith.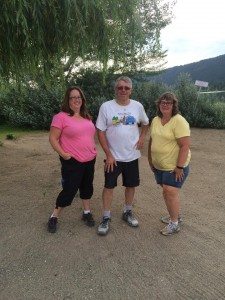 Lake City Resident Karen Frey who started the clean-ups says more volunteers are still welcomed to join the group that meets at the beach each day starting at 6 am.
She says she had decided to take things into her own hands following discussions on Facebook.
"There was a picture of this beach and it was just appalling and I know that I've been walking here since March and I've watched it become progressively worse."
"I just decided I can't stand it because you know it's just giving the community such a black eye and I said I was going to buy a rake and if anyone wanted to join me that would be great."
Frey says anyone interested in helping out can come on out and adds that all they need to bring is a rake as she will provide gloves and garbage bags.
She says the biggest challenge for the group continues to be the immeasurable amount of geese.