Update 12PM: A fire that broke out on historic Oliver Street in downtown Williams Lake has left two businesses fully destroyed.
Owner of Diamonds and Dust Jessica Boate who lives in Kelowna said she learned of the fire through social media.
"Firefighters' wives basically is how I first started and then I phoned my business partner and she's just completely beside herself, almost in hysterics," Boate said.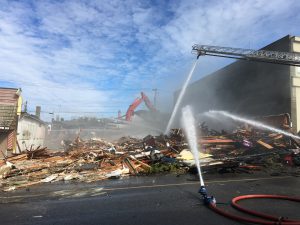 "So I'm going to come up and deal with it and hopefully aid the investigation. There's been a couple of calls within the area of other suspicious activity is what I've been told to say from my business partner, so hopefully with the investigation that they've done with the two other attempts of arson as well as the investigation in the suspicious activity over last week hopefully we can nail this down and find out who did this because it's extremely dangerous."
"I'm so, so grateful that nobody's hurt physically," Boate added.
Also destroyed was New World Cafe.
Owner Sue Lachance said the building had to be demolished to save the rest of the block.
"Obviously very sad," Lachance said.
"It's sad for me and my family and our staff, and it's really sad for the community because it was a special spot because there's a lot of history here."
Fire Chief of the Williams Lake Fire Department Erick Peterson confirms the fire is now under control.
He said they received the call at about 5:24 Friday morning and that crews responded and saw smoke and flames coming out of the front roof of Diamonds and Dust.
Peterson said due to the nature of the fire the Department will be working with the Williams Lake RCMP and launching a full investigation.
28 firefighters from the Williams Lake Fire Department, nine firefighters from 150 Mile Fire Department, and six firefighters from Wildwood Volunteer Fire Department responded.
"From the barbershop on has been saved," Peterson said.
"The fire is now under control at this point and we don't expect any further damage."
Previous Story: Black smoke billowed in downtown Williams Lake that could be seen from Highway 97 as firefighters remained on the scene of what appeared to be an aggressive fire Friday morning.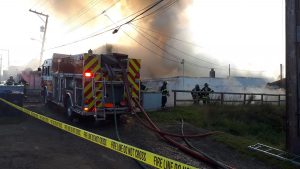 While Oliver Street at the corner of Caribou Ski remained blocked by Williams Lake RCMP onlookers and business owners gather to watch from the sidelines the efforts of firefighters to fight the fire.
RCMP Cpl. Jeremy Roberts confirmed to MyCariboow that the call for the fire came in at 5:30 am and said the whole businesses block will likely be a complete loss.
Five of the six businesses as of 9:45 am were confirmed to be directly affected by the fire either by water damage, smoke, or flames.
"I'm kind of super scattered. I'm really kind of all over the place right now," said Jessica Boate, owner of Diamonds and Dust that is believed to be a complete loss and where the fire originated.
"I'm just on my way to Williams Lake as I live in Kelowna. I'm super sad that these historic buildings are going up in flames and I'm even more upset at the fact that there have been attempts a couple of times on my building in specific, and the worst is that there were actually attempts within business hours which is really scary."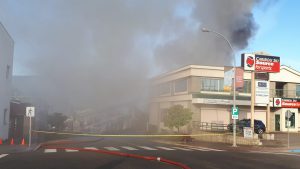 More to come…..