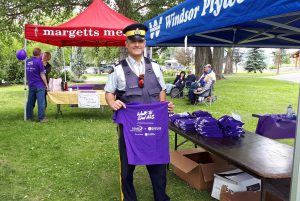 A walk to end a rapidly progressive neuromuscular disease took place Saturday in Williams Lake.
Upwards of 100 people took part in the annual walk to help raise funds to support those living with ALS and find a cure.
Walking in memory of Kirk Seibert was Williams Lake RCMP Staff Sgt. Del Byron who had worked with Kirk in the late '80s in Saskatchewan.
"Kirk was a great guy, he was a great member," Byron said.
"He did 25 years in the RCMP and just shy of his 60th birthday he passed away from ALS, so it's a sad story but I'm here to help in any way I can."
Before the walk began Bill Montgomery's children shared some words in his memory. They said this year's walk for them was extra special and extra meaningful for them as it is in special memory of their dad who peacefully passed away on Friday, May 24.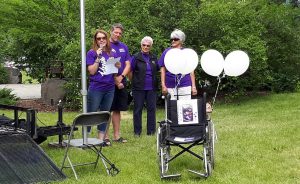 "Dad was a tough fighter and gave ALS an incredible battle for almost a decade," his daughter said.
"It was an incredible journey and we are very thankful to have had the ALS Society of BC at our sides," she added choking back tears.
"What an amazing association they are and they will always hold a special place in our heart. They are true ambassadors in finding a cure and they are the epitome of champions as they continue to work so hard behind the scenes to lobby, educate, and raise much-needed funds to everyone impacted by this horrible disease."
"Our family is definitely grateful for the resources they provided, the equipment they loaned, and all the support they genuinely gave to our entire family along the way."
While walk organizer Chris Seibert did not speak directly about ALS, she did share a story that she had heard on television last week that impressed her.
"It was a father rescuing his daughter from a shark and after this episode was over he said I don't know how many times I have told my kids that I love them," she said.
"So I just wanted to tell you to tell your loved ones that you love them."
60 percent of funds raised through today's walk will go towards supporting those with ALS with the remaining 40 percent of the funds towards research to finding a cure.
Last year's walk in Williams Lake raised $18,000.