Update Saturday, May 11: A missing man who later had a warrant issued for his arrest was taken into custody by 100 Mile House RCMP.
100 Mile House Frontline members with a North District General Investigative Section member located and safely arrested 42-year-old Shawn Taylor at an address in the 103 Mile Area without incident Saturday morning after midnight.
A search of the area where Taylor was believed to be eluding police along 103 Mile Lake Road resulted in locating three firearms and some ammunition along the top of a ridge.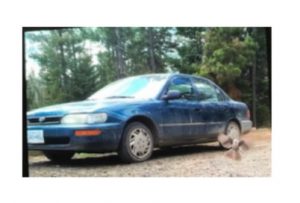 Taylor was wanted for kidnapping, assault with a weapon, uttering threats, robbery, and using an imitation firearm during an offence.
"100 Mile House RCMP are grateful for the public's cooperation and understanding during the past four days while we and several specialized units searched for Mr. Taylor," said S/Sgt. Sven Nielsen in a release.
"Thankfully, this incident ended without further injury to anyone. We will continue to provide support for the victim and family involved with this file."
A search for Taylor's vehicle, a 1994 Toyota Corolla (green/blue in colour) continues.
RCMP ask anyone with information to contact them or Crime Stoppers.
Original Story Published Friday, May 10: RCMP Respond to Report of Wanted Man at Resort
100 Mile RCMP and Emergency Response Team units responded to Spruce Hills Resort at 108 Mile Ranch Friday afternoon.
Staff Sgt. Svend Nielsen said the detachment received a tip that a man who is currently wanted, Shawn Taylor,  was staying in one of the chalets at the resort.
Nielsen said the area around Spruce Hills had been cleared, and they are still looking for Taylor.
The incident happened at around 1 PM, and police were on scene throughout the afternoon.
RCMP ask the public that if you spot Taylor or know of his whereabouts, not to approach him. Call 911 immediately.