Air pollution was the number one concern that arose during an open forum by Atlantic Power to burn more railway ties at the Williams Lake Power Plant Wednesday evening.
A resident of Williams Lake for 8 years, Kim says she's particularly concerned of the chemical creosote leaching into the air.
"I moved from Prince George which was a toxic mess with the Husky oil plant, the refinery, the free-pulp mills, the other plant that made toxic substances; basically it was a choice to move here and one it was for environmental cleanliness and this is very disturbing."
Sean Gillespie, General Manager For Canadian Operations for Atlantic Power says however daunting as the chemical sounds, it's actually much better when managed properly to have it incinerated in a controlled environment than leaving the rail ties to sit and have it seep into the ground.
"So by burning in a controlled environment, we've actually demonstrated that we can reduce the greenhouse gas emissions because methane is released from the rotting ties."
"When we burn in a controlled environment at 2,000 degrees Fahrenheit we reduce the greenhouse gas emissions but we also eliminate all of the dioxins and toxins that are in the creosote."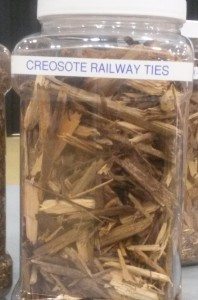 Over 1 million railway ties are replaced in Western Canada each year.
Atlantic Power says should their application to burn between 15 to 25% rail ties on an annual basis be accepted by the Ministry of Environment a 30 day public comment period would take place this fall.
Gillespie says there would be significant economic outcomes.
"We would add 4 more permanent positions once the operation is up and going."
"During the construction period, there would be at least 25 jobs for a few years. We'd invest at least $8 million probably up to $10 million dollars in the development of this project and then there would be all kind of spin-off jobs in the community as well afterward."
As for another concern that arose of an unexpected environmental disaster occurring, Environmental Manager Terry Shannon says the plant is insured.
"And the insurance limits are set by statue."
"In the case of Mt. Polley, it's a pretty unique incident. So I'm not saying that it can't happen but for a plant such as ours, the worst case scenario doesn't approach anything like a Mt. Polley incident."
Atlantic Power currently operates under an environmental permit that allows the burning of up to 5% rail ties, although they have not burned any since 2010.
They have cited the possibility of burning shredded rail ties in a 50/50 mixture with traditional wood fiber due to the diminishing local fiber supply and to make the commitments necessary to enter into a contract extension with BC Hydro.
If approved the burning would begin in 2018.