A proposal for a zoning amendment application to add a mobile home at 911 Proctor Street in Williams Lake received a unanimous no by Williams Lake City Council following a public hearing.
Manager of Legislative Services Cindy Bouchard said at Tuesday's regular Council meeting that the City received a petition with nine signatures.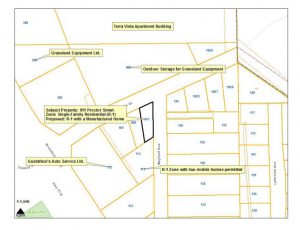 Brent Rouse who lives on Mayfield Avenue was joined with other local residents who spoke out about the proposal and told Council that it would bring down the value of their properties.
"I believe it was last summer when the owner subdivided it," he said.
"I came to the City with concerns at that point, and my concern was because of the lot sizes that they were too small for someone to put in a home, to build a house. My biggest concern was that we did not want a trailer there."
Having lived in a trailer court himself and moving to the house where is living now, Rouse added that he is not against trailers.
"There are two trailers that are across the street from my house and that are adjacent to this parcel of land, but they've been there for pretty much a long time," he said.
"The gentleman that does it own, within the last year or so he had one of the older trailers moved out and brought in a new double wide so it actually made it look nicer for the residents there and we were all happy with it. However with this the residents all on Mayfield Avenue and probably up the streets, the biggest thing is when you have a trailer situated with round homes it brings down the values of the homes around it."
"Myself this year, I'm going to go out and redo my siding and do something to my house to improve it, to make it a better place in the community and it's going to be to no avail," Rouse continued.
"Whatever I put in to is going to decrease if a trailer moves in there."
Applicant Gerry Stanley said he understood the concerns of the residents and that he had updated and renovated the mobile home in question and has not yet done the exterior.
He told Council he has lived in the community since 1975 and would never move to a place or come to a place where he would devalue it.
"This one lot would allow for a single detached dwelling or a manufactured home," said Director of Development Services, Leah Hartley.
"In our zoning bylaw a manufactured home is given some definition and this structure meets that definition. Our zones allow modular homes, but not a manufactured home and it's very difficult now to tell the difference. But this falls within the definition of a manufactured home."
Councillor Scott Nelson said he is not typically opposed to manufactured homes being put onto R-1.
"I actually support it and encourage it, however, I don't think this is the case here," Nelson said.
"We're taking an old beat up trailer and bringing it in wanting to put it into an R-1 residential area; that's essentially what is being proposed here at this point in time. If you allow this one in that location because we don't have the parameters to say it's got to be 2019 or newer within our bylaw, I too being a neighbor in the area would not want that in my neighborhood."
Councillor Craig Smith said he also could not support the proposal as did Councillor Ivan Bonnell.
"I feel the same way I feel about this as I did when we were talking about the strata development last year and the fact that you're adding something to a neighborhood that doesn't exist and the neighbors are not for it," Smith said.
"I was basically going to say the same thing," Bonnell added.
"The compatibility of the surrounding neighborhood is all R-1 except for a couple of commercial service properties, and I hear with the delegations coming forward wishing to retain the R-1. This amendment for that zoning would add to the introduction of trailer homes within the neighborhood which we're hearing loudly they don't want to happen."
"Although I understand the applicant's right to make an application to test to see if they can try to develop their property in line with the vision they have, unfortunately, more work should of have been done on this prior to purchasing the property."