A northbound lane of Highway 97 north of Williams Lake was cleared late Sunday evening of minor debris and mud caused by rapid snowmelt and warm weather.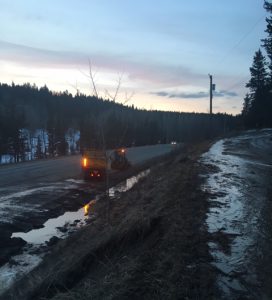 The Ministry of Transportation and Infrastructure said water flowed from the hillsides onto Hillside Drive, in turn, redirecting water into the ditch along Highway 97.
"The culvert in the ditch at this location was at capacity and unable to handle the flow, and the overflow went onto the highway," the Ministry said in an email to MyCaribooNow.
"A berm was created on Hillside Drive, redirecting water to an additional culvert on Highway 97. Both culverts were able to manage flow. The maintenance contractor had Highway 97 reduced to single lane alternating traffic at this location due to equipment being used for cleanup."
Rayfield Road at North Bonaparte Road east of 70 Mile House remains closed in both directions due to flooding.
"There is currently no estimated time of reopening," the Ministry said.
"Staff are assessing the conditions and determining next steps. The road will reopen as soon as it is safe to do so, and drivers are advised to continue to check DriveBC and Twitter for the most up-to-date information."
A travel advisory remains in effect for Highway 99 between Hat Creek Road and Jackson Road north of Lillooet due to the risk of mudslide activity. There is also a travel advisory in effect for Highway 97C between Cornwall Road and Highway 1 near Cache Creek due to potential mudslide debris flow.