Spring has been off to a busy start for the Williams Lake Public Works Department.
Crews were out with equipment this morning tackling potholes at the top of Carson Drive.
"We were out doing potholes when there was no snow on the ground, but we started making asphalt every day and trying to take care some of these large craters that have happened throughout the City over the winter time," says Director of Municipal Services, Gary Muraca.
"We'll be making asphalt every morning until it's all fixed up."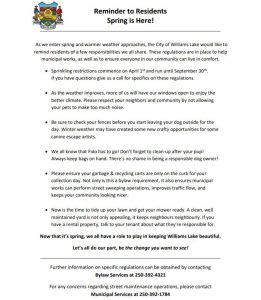 Muraca says they usually make about four tons of asphalt a shift that gives them about six hours worth of work addressing potholes in strategic areas.
He says there is no better option than having people tell them about something they see that they should be addressing right away, and encourages the public to contact the general city number should they notice a pothole of concern.
"I don't think it's any worse than the years previous by any means. There are potholes, but that's what happens with winter-every town in the world deals with potholes in the spring."
As well as patching potholes, Muraca says crews are also sweeping sidewalks and roads as well as preparing the City's parks.
"Hopefully we should have the washrooms at Kiwanis, Scout Island, and Boitanio opened up as soon as it's not going to freeze to very low temperatures at night," he says.
"Lots of people are out already enjoying playing pickleball at the court and tennis so we want to make sure that we get the washrooms open so they can utilize the facilities as well."
Muraca says they have not seen any issues at this time with flooding, but are prepared and will make sandbags available if needed.
"Sometimes we have issues with north lakeside. There are a couple of properties over there that see some flooding but we haven't heard anything at this time."
Finishing the patch. Like a well oiled machine. Good work guys! pic.twitter.com/YiNep1Ql7e

— CoWL Public Works (@CoWL_Works_Yard) March 25, 2019