The Williams Lake Salvation Army will be making some purchases to restock the shelves of its food bank following the grand opening of a Prosperity Way business.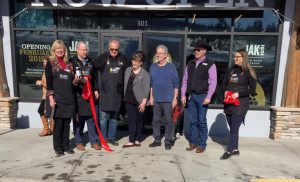 The Salvation Army was presented a cheque for $3,100 from JAK'S Beer, Wine, Spirits that donated ten percent of their sales from their grand opening on Saturday, March 9.
Tamara Robinson says she will be placing two orders with local grocers.
"I'm going to be filling our shelves with various types of dry cereal, with juice, kraft dinner, pasta, pasta sauce, and some ready-made meals," she says.
"So things like hamburger helper, tuna helper are all items that we're all really needing in our food bank."
Robinson estimates they will be able to feed 78 families.
She says their shelves are currently looking quite empty, and that they are in need of everything from rice, noodles, juice, cereal, and coffee.
"We always see a lot of donations at Christmas time because that's when the real push for donations is," Robinson says.
"But the families that need assistance at Christmas time also need assistance for every month of the year so we're always in need of filling our shelves and to accept donations."