Update Thursday, March 14:  Three people are facing various charges after a vehicle valued at $54,000 from Gustafson Kia in Williams Lake was recovered Thursday near Merritt.
Williams Lake RCMP received a report of a stolen vehicle from the dealership on Tuesday, March 12.
" Williams Lake Frontline officers attended and suspects were identified through video surveillance," said Cst. Joel Kooger in a media release.
"Early Thursday morning, RCMP Frontline officers in Merritt responded to a suspicious occurrence on the Coquihalla Highway where it was reported that three people were walking down the highway."
"Consequently, the stolen Kia vehicle was located."
Two males and one female all from the Williams Lake area were arrested.
"This is another great example of the good work that Frontline Officers are doing and the collaboration between neighboring police detachments," Kooger said.
The names of the accused will not be released at this time as the investigation is ongoing.
Original Story Wednesday, March 13:
New Vehicle Missing from Williams Lake Car Dealership
A 2019 Sorento SXL valued at $54,000 is missing following a break and enter at a Williams Lake dealership.
Owner of Gustafson's Kia, Kerry Gustafson said four individuals, two males and two females, broke in their front door and made their way into the key room Tuesday night.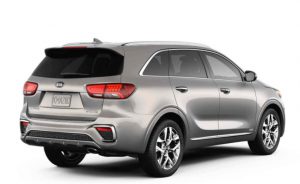 "They took two keys and made a mess in the place before they took the keys," he said.
"One of the vehicles happened to have a dead battery so they couldn't' take it. So three of them piled into one vehicle and they were in the process of leaving the fourth girl behind. They stopped for her I guess, and they took off with it."
Gustafson said neighbors alerted him at around 10:30 pm of the incident.
He said that he suspects the new vehicle-an unplated silver in color 2019 Sorento SXL did not leave town as there was very little fuel in it.
"It should be abandoned somewhere," Gustafson said.
"Obviously it doesn't make me feel very good, but on the other hand if I get my vehicle back the positive side of it is that there will be four people who will be going to jail."
Gustafson adds it has been 15 years since the dealership lost a couple of vehicles.
"I'm not sure what prompted this," he said.
"Again I assume we're dealing with the repeat offender problem that we've had in Williams Lake for many, many years, and it keeps people from wanting to move to Williams Lake, unfortunately. It doesn't give us a good name these people."
Anyone with information is asked to contact Williams Lake RCMP or Crime Stoppers.