The Williams Lake RCMP are asking the public to contact them if they noticed anything unusual after a deceased male was located in a downtown parking lot.
The male was located Saturday morning at around 7 am on 7th Ave N between Save-On-Foods and the Sandman Hotel.
"The police are asking for any member of the public that was in that area between March 8 at
5:00 pm and March 9 at 7:00 am to contact police if they observed anything unusual" said Cst. Joel Kooger.
"The investigation remains in the early stages and there is no further information to release at
this time."
If anyone has any information they're asked to contact the Williams Lake RCMP at 250-392-6211 or Crime Stoppers, if they wish to remain anonymous, at 1-800-222-TIPS or www.solvecrime.ca
RCMP Investigating After Body Found in Downtown Williams Lake
-Saturday, March 9
Update 4:50 pm: RCMP in Williams Lake are investigating a sudden death with suspicious circumstances after a body was found in downtown Williams Lake.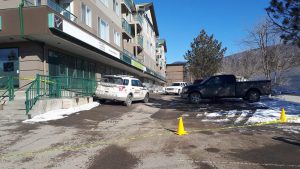 The scene between the Sandman Hotel and Suites and Save-On-Foods was surrounded by police tape Saturday morning as RCMP with BC Coroners Service investigated.
"A more detailed release will be forthcoming at a later time," said Inspector Jeff Pelley.
Original Story: Williams Lake RCMP is investigating after a body was found early Saturday morning between the Sandman Hotel and Suites and Save-On-Foods.
"The police were called to a sudden death so we're moving our investigation forward in conjunction with the Coroners Act, and no further details will be released at this time," RCMP Inspector Jeff Pelley said Saturday.
Staff S/Sgt. Del Byron said the incident is presently under investigation by the Williams Lake General Investigation Section and the Williams Lake Detachment.
MyCaribooNow will update this article once further details become available.