The Williams Lake Women's Contact Society will host their first International Women's Day Wellness Fair.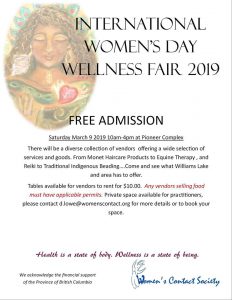 "Health and wellness are important to everybody, and just to showcase what Williams Lake has to offer to keep everybody healthy and happy," said safety coordinator Evelyn Forster.
"We have a variety of different vendors and service providers that will be there and set up offering their services and products."
The Wellness Fair which will coincide with Friday's International Women's Day runs Saturday, March 9 at the Pioneer Complex from 10 am until 4 pm.
"It's completely free for admittance," Forster said.
"If it's a success, a good turnout, we'll definitely do it again next year."
The Women's Contact Society was to present this year's Women with Heart Award Friday evening, but Forster said the event was postponed to make it accessible for the 91-year-old recipient.
"We just got news of who was going to be receiving it and she is from Williams Lake but she's currently living on the Island so we just want to make really accessible to her, to give her a little bit of time to plan to come down."