A delegation with Interior Health provided a brief update on the temporary closure of the maternity ward at Cariboo Memorial Hospital at Thursday's CCRHD committee of the whole meeting.
Sitting in front of a screen indicating the presentation would be on an Interior Health Capital Update 2019/20 Funding Request were four representatives including director of business support, James Kinakin and executive director of IH West, David Matear.
"We won't spend a lot of our meeting time on this because it's not the purpose of the meeting, and we're a capital assistance board. We're not an operations or management board for Interior Health," said CCRHD chair Bob Simpson before allowing Directors to ask Matear questions following an overview of what was mostly provided in a news release issued Wednesday.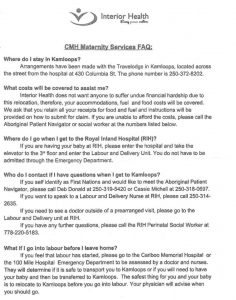 Area G Director Al Richmond said there needed to be clarity that the maternity ward would not resume normal operations until June as well as what assistance would be available to expectant mothers and families.
"It would be very helpful to have another media release that's clear and concise so it doesn't get misconstrued by somebody's best intentions to communicate what you're trying to do," Richmond said.
"I think what's needed right now is clarity. Certainly, we're hearing the same story of our nursing shortage, health professionals, and so on. This isn't new to us and it's probably going to continue."
Matear said because of Interior Health's ongoing recruitment efforts they are hoping the closure will be resolved before June.
"With the time that's kind of the worst case scenario in our mind," he said.
"June if nothing changes we should be in a much better place."
Area E Director Angie Delainey asked if Interior Health has any thoughts or ideas on a birth house as many people from our community travel to the Birth House in Kamloops or to see a midwife.
"I feel like people would come to the area and want to live here based on those types of services or wanting to provide those types of services," she said.
Matear said clinical providers here in terms of physicians and midwives are not the issue right now.
"We've got four obstetricians and seven general physicians in the community," Matear said.
"So it's not the actual clinical delivery of the baby that we're looking at, it's the ongoing nursing care before and after in an inpatient setting. The clinical providers right now is not a challenge."
Meatear added that patient safety is of paramount importance.
"We have created a scenario with the available staff that we have so that no matter if an expectant mom comes in and needs an urgent delivery, that would be provided safely with the appropriate staff in place."
Simpson then made a motion to move in-camera.