About 45 people attended an open house Wednesday to learn about the proposal to relocate the 153 Mile Store above the Williams Lake Stampede Grounds.
Chair of the Cariboo Heritage Park Society, Anita Crosina says they had a lot of positive response.
"Apparently we get to sign the lease after this is over," she says.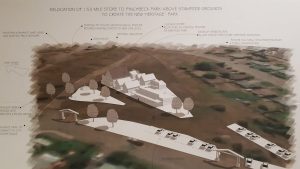 "I think it has to go back to Council next week and then once that's done we have to deal with Victoria on the archaeology end of it before we can do much of anything else, but getting the site confirmed was a big step."
Built in 1914, the 153 Mile Store and its contents were donated to the City by brothers Roger and Rusty Patenaude and their families in 2015.
"My brother and I going to stay involved," Roger says.
"We're part of the Society and we're hoping to help in fundraising and do a bunch of the stuff to get the store moved. The Crosina family is also involved in it and they were the ones that first built the store and ran it as a store; we just inherited the store because we bought the ranch."
Because artifacts including some hieroglyphics in the pit house were found, Roger says the Society will have to wait to receive the go-ahead from the Archaeological Society of B.C. to do the excavation.
"Signing the lease does give us the opportunity now to apply for grants so we will start applying for some grants, and once we get the okay for the excavation then it will be full bore trying to get funding," he says.
"We've been waiting for that for two years now and it's hard not to get going on it but it all takes time. We're hoping that we can get it done this summer and get the okay to do the excavation by next spring."
The concept design was completed by Phil Harrison of Harrison Design.
"Celtic Engineering is also on board with this and they've been very good, very helpful," Crosina adds.