The Williams Lake Fire Department attended a residence on Windmill Crescent this morning after a friend of the family noticed smoke and contacted the Department.
"So just a small fire that was in the basement level of this home that had caused a bit of smoke within the building," said assistant fire chief Joan Flaspohler.
"We're just making sure that it's clear of smoke so it's safe for the family and that there are no extensions with the fire."
No one was injured and there is no word on the cause of the fire that resulted in minor damages.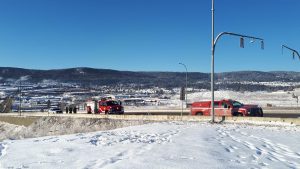 Flaspohler said the Department ended up sending another truck to the scene after one of the Department's trucks was struck by a vehicle near the Y intersection.
Fire chief Erick Peterson said the rapid response truck will likely be out of service for a day.
"They did not immediately stay on the scene but they reported the incident very quickly afterward," he said.
"Fortunately we had enough members respond and we had another truck there shortly."