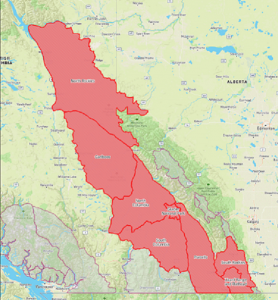 Avalanche Canada has issued a special public avalanche warning for the BC interior including the Cariboo.
Recent weather has formed unusual conditions for avalanche danger in the backcountry
"We've got a weak layer that's buried in the snowpack," says Karl Klassen with Avalanche Canada.
"The problem layer is exactly where the riding conditions are better at lower elevations, where people are going to find the best riding conditions and people are going to feel safe. But in this case its exactly the opposite of normal where the alpine is probably actually safer than the below treeline areas."
The warning will be in effect until the end of day Sunday, and Klassen says riders should be extremely cautious in the entire Cariboo region.
A special avalanche warning is also in effect for North Rockies, North & South Columbia, Glacier National Park, Purcells, South Rockies and the Lizard Range.