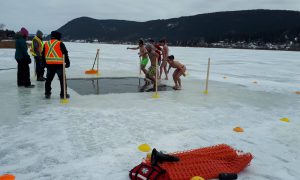 There were no thoughts of canceling the annual Polar Bear Plunge in Williams Lake.
As the temperature dropped Saturday afternoon to -21°C with a windchill of -34°C, organizer Sunny Dyck said they had 61 people registered to take the plunge.
"It's part of the fun," Dyck said of the chilly weather.
"It's the polar bear swim-you're going to have to expect a little bit of coldness."
Despite having started early and appearing to have concluded just before the original 1 pm start, a group arrived last minute to peel down from their winter gear into beachwear resulting in the 19th annual event to wrap up at around 1:10 pm.
"It went awesome, amazing, fabulous; nothing but good things," Dyck said
"We worked very hard to put on the event. The numbers are getting bigger every year."